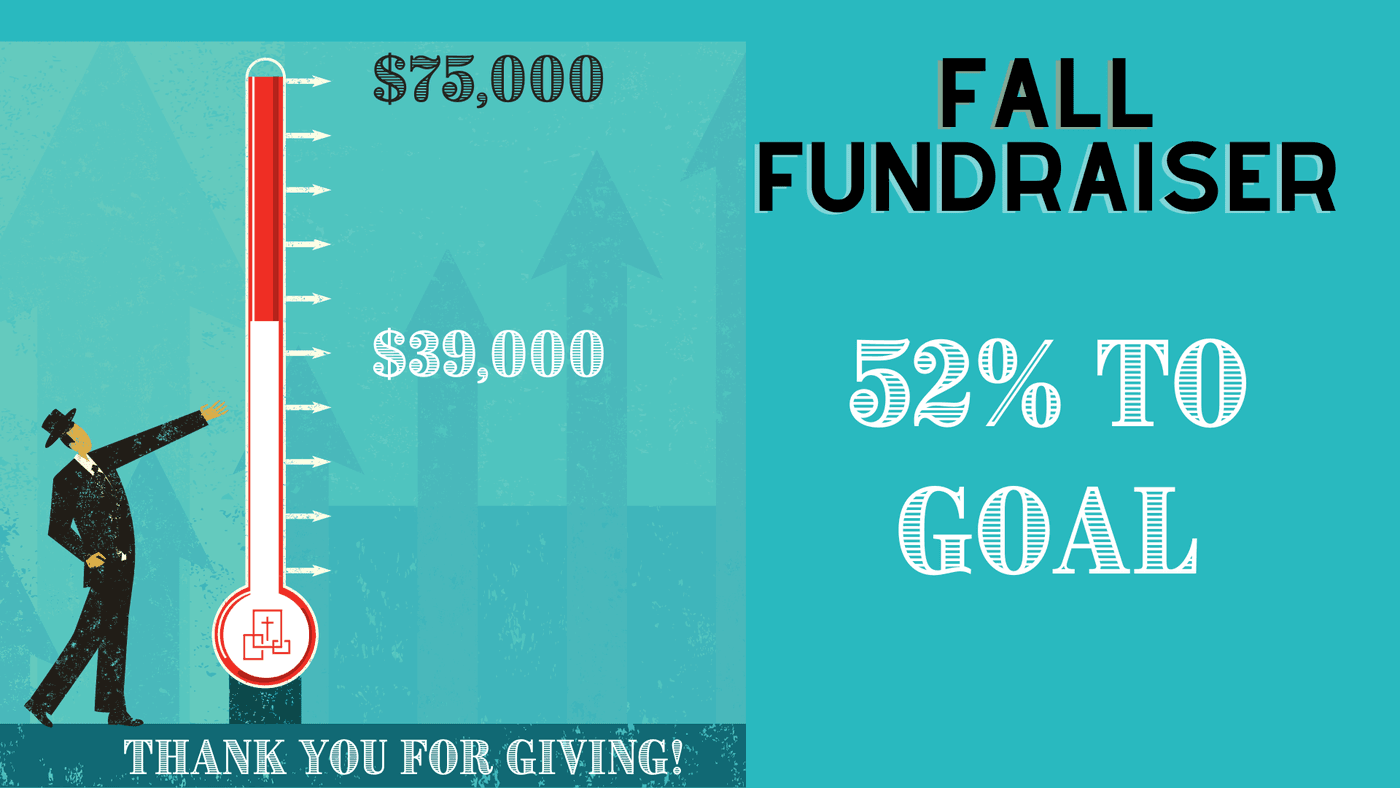 Sept. 25 - Oct. 9, 2022
Ready to donate now! Please make sure to note 'Building Fund' with your donation to ensure it goes towards the fundraiser. Use one of the methods below to donate:
E-Transfer through your bank to giving@the-campus.ca
In Person on Sundays via cheque, cash or debit/credit machine
Mail a cheque to: P.O. Box 367, Aurora, Ontario, L4G 3L5
Give online now by clicking the button below:
Our Fall fundraiser will begin on Sunday September 25, running three consecutive Sundays ending on Thanksgiving Sunday, October 9.
The goal of the fundraiser is to raise $75,000 which will allow us to address three key needs at The Campus as follows – replacement of our digital road sign ($50,000), repairs to our parking lot ($20,000) and purchase of a livestream camera for Campus North ($5,000).
As you can see, the majority of the fundraiser will go towards the digital road sign. Unfortunately, these digital signs are expensive to replace, however, we believe that a sign highly visible to the Bathurst Street traffic is worth the investment. We have heard countless stories about people coming into our church because they first saw the digital sign as they drove by. These signs last 10-12 years meaning our investment becomes about $5,000 per year, which seems like a reasonable amount to let people know there is a church here, and that they are welcome to come and join us in serving God.
As many of you are aware, our parking lot needs an extensive amount of repair. The $20,000 we hope to raise towards the parking lot is just scratching the surface (no pun intended!), but we feel it's prudent to fix as many of the worst areas as possible. The cost to redo the whole parking area properly would be around $200,000; and we thought the digital sign was expensive!
At Campus North we would like to begin livestreaming the Sunday morning services. In order to do this, they require a camera at a cost of approximately $5,000. Currently only audio of the Sunday services is available to the congregation after the service. The video livestream will help anyone unable to attend in person to connect live to the service in the same manner as Campus Bathurst is currently livestreaming. God is blessing our North congregation with new people and some Sunday mornings have exceeded 100 in attendance!
God is moving throughout the Campus Church, and we are excited to see what is next for us as we live out our lives in faith, loving & serving both God & people. Thank you for your continued support and prayers for our church.
P.S. Should God bless us with more than the fundraiser goal of $75,000, we have identified a number of other needs we can direct the surplus towards. One key area in need of an update is our front lobby, redoing and refreshing the first impression as people enter the building. The tile floor in the gymnasium is also nearing the end of its life as we are more frequently needing to fix tiles that come unattached.
There are many ways to give as noted below.
Please make sure to note 'Building Fund' with your donation to ensure it goes towards the fundraiser.
E-Transfer through your bank to giving@the-campus.ca
In Person on Sundays via cheque, cash or debit/credit machine
Mail a cheque to: P.O. Box 367, Aurora, Ontario, L4G 3L5
Give online now using this link: Campus Church Fall Fundraiser