Day Camps | July 10 - August 18, 2023
We're very excited to offer our summer Day Camps in 2023!
At The Campus Church Day Camp there's no such thing as a boring day of the week. To us, we believe every day is the best day ever! Each week, campers will engage in exciting and energetic activities like rock wall, zip lining, low ropes courses, arts & crafts, team sports, archery, free-to-choose workshops, chapel time and much more!
Campus Church Aurora - Day Camp Dates
KinderCamp
KinderCamp (for kids in JK and SK in the fall of 2023)
July 10 - August 4, 2023
$260 per week
Day Camp
Day Camp (for kids grade 1-6 in the fall of 2023)
July 10 - August 4
$260 per week
August 8-11
$ 220 per week (short week)
Youth Camp
Youth Week (for kids grade 5-8 in the fall of 2023)
August 14-18
$280 per week, which includes an offsite field trip
Registration is now open!
Click on the button below to register.
Full refunds will be issued only for COVID related Day Camp cancellations.
Day Camp Staff
All of our staff are screened, trained, safety-oriented, enthusiastic, committed, creative, and hard-working positive role models who are passionate about God and who love kids!
Ensuring every camper's experience is the best it can possibly be is a priority for The Campus Day Camp. For this reason our camper to counsellor ratio is exceptional at only 5-6 campers per Day Camp staff member. Kids will have the invaluable opportunity to build wonderful relationships with their camp counsellors while they are having fun and making new friends.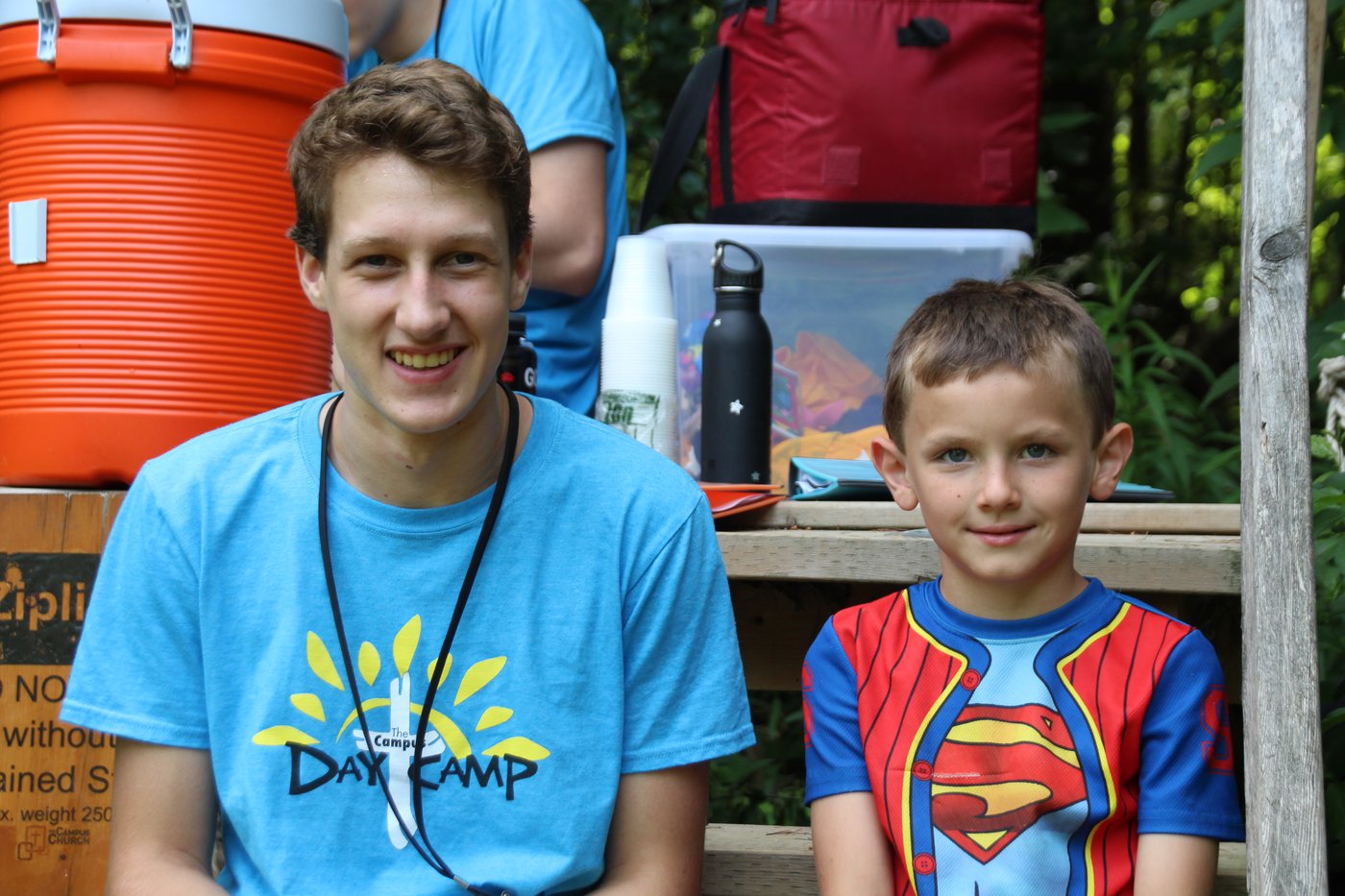 Comments From Our Day Camp Parents:
"Thank you so much for your great and calm care. My kids just love your camp. We actually started attending your church because of it. Thank you for all your efforts!"
"[My kids] have been having such a blast! This is the only camp they look forward to every year! Thank you so much for being so great with them ... God bless you all for your exceptional organization skills."
Frequently Asked Questions
What should my camper bring to camp?
Back pack, nut free lunch and two snacks, sunscreen, bug spray, and hat. Campers should also bring a bathing suit and towel for Water Play Day (Wednesdays) and wear team colours on Thursdays. Comfortable clothing and running shoes are recommended. Please keep in mind that this is a Day Camp that operates in an indoor/outdoor environment and clothes can get stained and dirty throughout the course of the day. Please make sure that your child's name is clearly marked on all items that are brought to the Day Camp. The Campus Day Camp is NOT responsible for lost or broken items. No electronic items or any other expensive items are permitted. Please only bring what you need for camp.
Does my camper need to wear a mask?
Masks are no longer required but it is a personal choice and are welcome if parents would prefer.
What are the drop off and pick up times?
Drop off is at 9:00am, please arrive between 8:55am - 9:05am.
Pick up is at 4:00pm, please arrive between 3:55pm - 4:05pm.
What is the drop off procedure?
All campers are to place their backpack in the assigned area.
Campers must be signed in by the adult dropping them off with the staff at the registration desk and then proceed directly into the camp program.
What is the pick up procedure?
Campers will only be released to the parent or designate listed on the registration form. The Camp Director must be informed if another person will be picking up the camper or they will not be released to them until the parent is contacted and consent is given to the camp. Once a camper is signed out they are not permitted to wander; they must remain with their parent or designate while on camp property. The Campus Day Camp reserves the right to check identification of people picking up campers.
Can my camper be put in the same group as his/her friend?
We can accommodate most requests for campers to be put in the same group as their friend if the campers are close enough in age. Please let us know of your request by contacting us at camp@the-campus.ca a week or more before the start of camp.
Will I be given more information before camp starts?
You will receive a welcome email before the start of camp. You are also welcome to email us at camp@the-campus.ca with any questions.
Are you offering before and after care?
Unfortunately, we are not able to offer before and after camp programming this year.
Does my child have to participate in all activities?
Each week a variety of activities are planned. All campers are encouraged to participate in all camp activities. We don't want them to miss any of the fun!
Do you provide food?
We are not providing any food this year. Campers should bring a nut free lunch and two snacks.
Can I take my camper in and out of camp during the day for appointments?
Please contact the Day Camp Director at camp@the-campus.ca to arrange any alternate pick up and drop off times.
What happens if it rains?
Campers will play games inside our large facility.
What are the staff to camper ratios?
Approximately 1:5 staff to campers.
What happens if a camper gets sick?
If a camper should become sick they will be isolated from the rest of the camp and taken to the front desk. Parents will be called immediately and required to pick up camper immediately.
What is the refund policy?
Refunds will only be issued for COVID related cancellations.